Not to custom or extravagent but here's mine. I built it originally about 1 1/2 years ago.
Asus A8N-SLI Premium motherboard
AMD Athlon 3700+ ( has been running @ 2.7 for about a year, doesnt go above 42C)
XFX 7800GTX
2 gigs OCz platinum
All original equipment except for the 2 gigs added a little more then a year ago and is overclocked, since about the first few days i got it. I also added a arctic cooling heatsink+fan setup to the GTX a few months after i built it. Everything has ran flawlessly.
Didnt want to just set both of my radiator's outside of my TT mid-tower (
Identicle to this but without the top 4 fan control nobs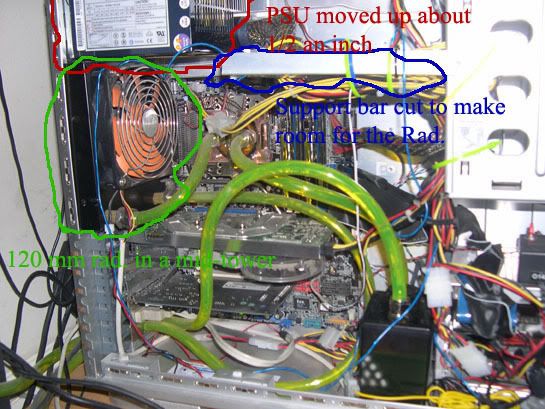 I didnt know when i ordered my TT bigwater 745 setup that it wouldnt fit in my mid-tower(I was totally new to water-cooling then) and when i started to put it in I relized it wouldnt fit, so I got a hack saw, drill, and some sheetmetal screws. Cut the support bar that goes across the case off half way so i could still fix my wires to it. drilled new holes for the PSU about 1/2 an inch above the old ones. Then once i got everything in i used the shettmetal screws to fix the radiator to the case. Ive had this setup for over a year(I pretty much never turn my pc off) and first used regular clear fluid XP+. I recently replaced the old clear with new Fluid XP+ EXT in lime green color by draining as much of the old as I could then flushing the rest out with the new stuff till i was confident i got it all out or most of it atleast.
My AMD athlon 3700+ is at 2.7 ghz and the TT water setup doesnt let it go above 42C so I am very pleased. It's also very quiet in my opinion.
Right now I really need to do something with my wires and something with my EL Wire as it's just thrown in there now.
Id also like to add that upgrading from 1 gig of ram to 2 gigs of OCz platinum was one of the best upgrades ive ever done, OCz is the only ram ill buy now for high performance builds, stuff is awesome