Hello everyone!
I needed to pick up a 5.25 bay HDD adapter recently, as my Dell mid-tower work machine only has 2 HDD slots, and I needed to put a 3rd HDD in it.
I did a bit of research on 3 potential adapters with fans, and decided to go with the Masscool SHF1 Ultra shown below.
It worked so amazingly well, that I decided to do a review of it.
I had never heard of Masscool before, and many of you might not have either.
I tried digging up some info on the company, but didnt get much, so decided to just paste their 'About' information from their USA website.
About Us
The Fanner Tech Group was founded in 1991. It is Masscool
brand for computer thermal solutions that include CPU coolers,
HDD coolers, notebook coolers, DC fans, various heatsinks
and other computer accessories. To expand our product range,
we've also been committed to the R&D of HDD enclosures
and HDD media players since 2000. All of our products have
already obtained a series of quality certificates such as ISO 9001,
ISO 14001 CE, UL, and RoHS.

Having been in this business for over years, we have built up
long-term relationships with a great number of global customers.
Our OEM customers are among the top international companies
and our brand "MASSCOOL" has also earned us a worldwide
reputation. We provide all-in-one service which comprises timely
shipping, full warranties, technical support and more, ensuring
that we fulfill all kinds of requirements from our customers.

And customer satisfaction has been our top priority since The
Fanner Tech USA Corp. established. Our company motto is to
share profit with our loyalty customers. We, at The Fanner Tech
USA Corp., are never satisfied with our current achievement, though
our masscool products are in the lead of computer accessories and
computer peripheral market. We always strive to be the best cooling
solutions provider of the world. We not only sell to customers reliable
products at competitive prices, but also provide sound warranty
terms as well as professional Tech support.
http://www.masscool.com/aboutus.php
The cooler came in a well packaged box, with foam 'holders' that suspend it so that it does not touch the box at all.
I bet this helps if the box were to get crushed.
What does 'Free Cooling Playing' mean?
Must be lost in translation somewhere.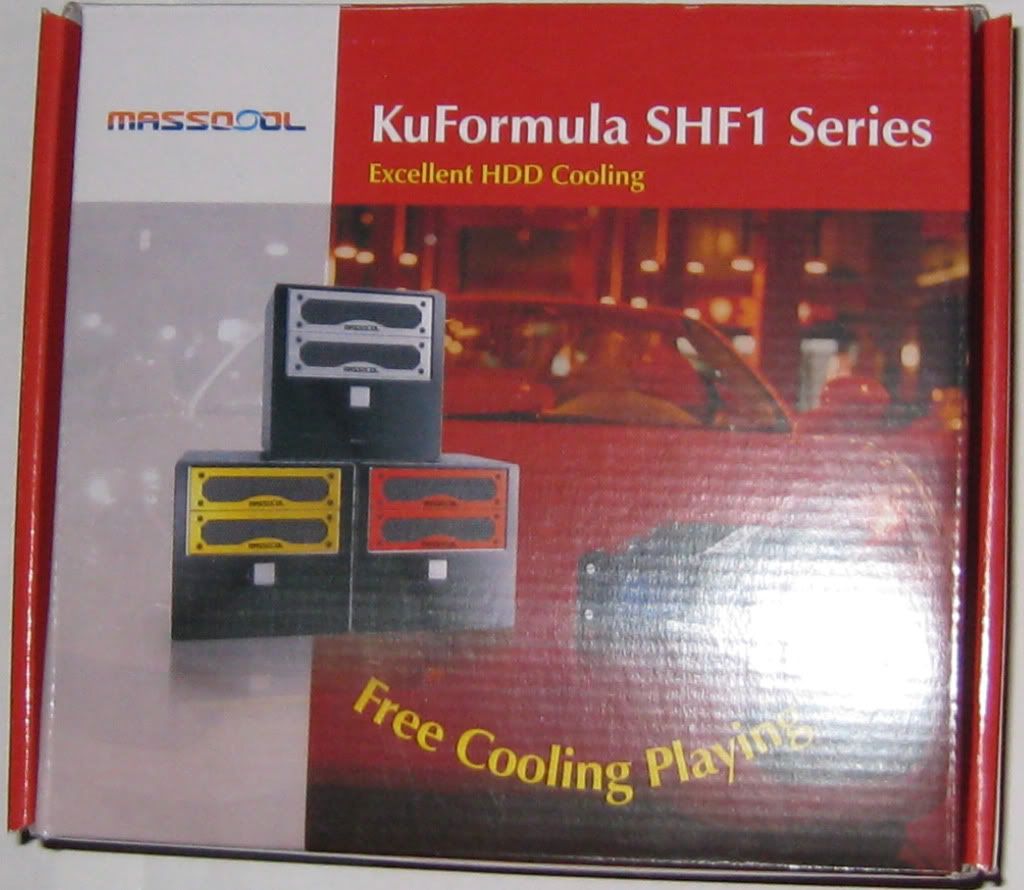 On the back of the box is some useful information about the dimensions of the cooler, and also a bunch of marketing checkpoints.
The dimensions are:
197 length x 148.6 width x 42.m mm
Or, for us U.S.A. folks:
7 3/4" x 5.85" x 1.67"
Weight is: 400g, or .88 lbs, or 14.10 oz
Material used is Aluminum and Steel.
There are 2 40x40x20mm 12v fans (.8w and .07a), rated at 4500 RPM's and 21 dba.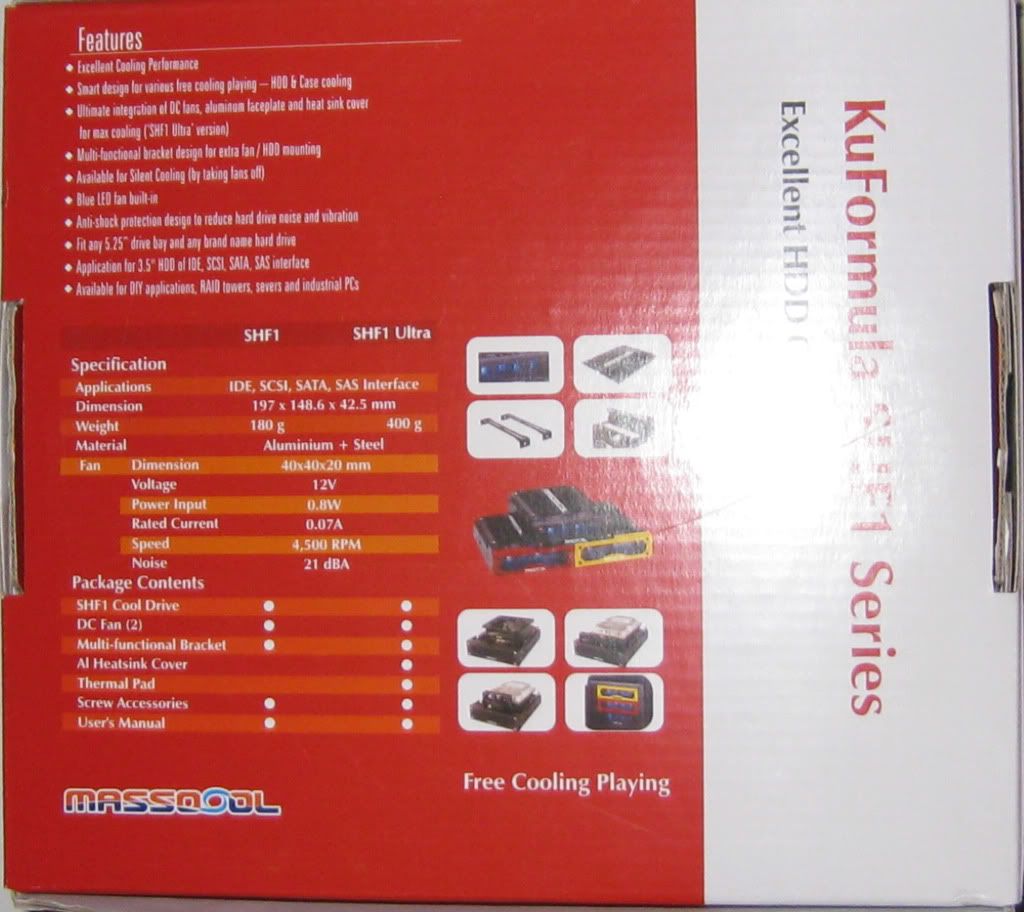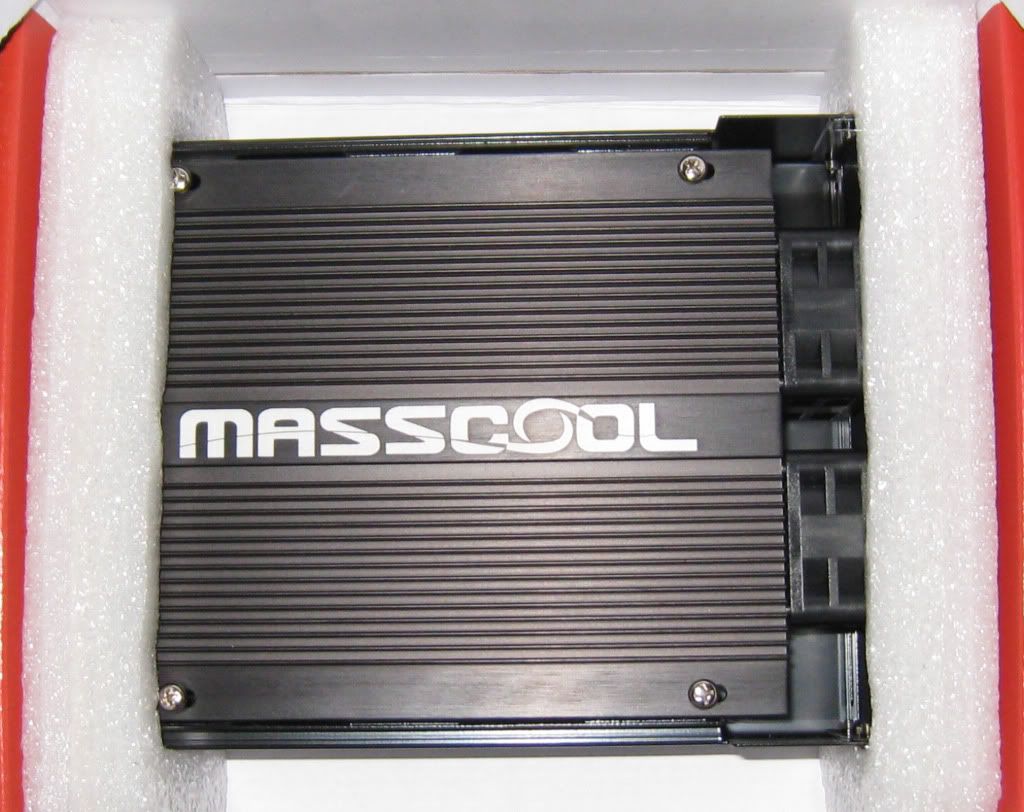 The cooler just out of its packaging.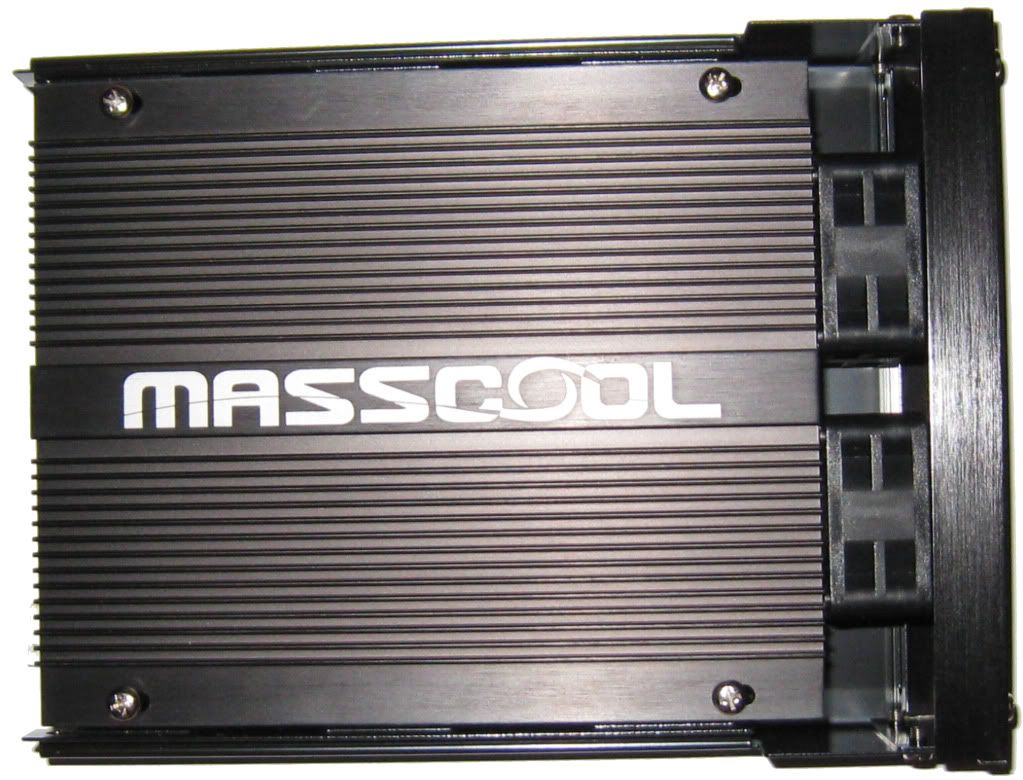 There is a box with all the needed essentials (and some bonus stuff also) inside the cooler itself. Space saving shipping. I like it.
And here are shots of the unit front, back, heatsink removed.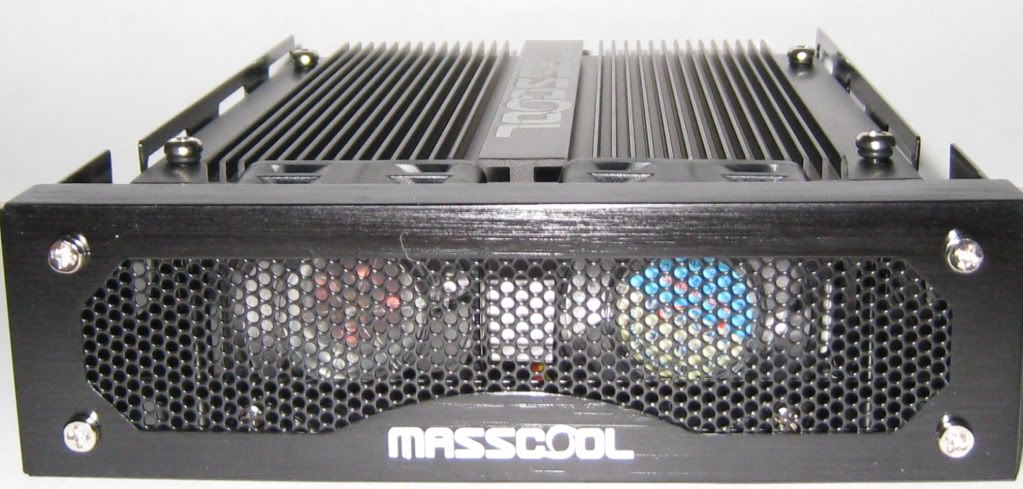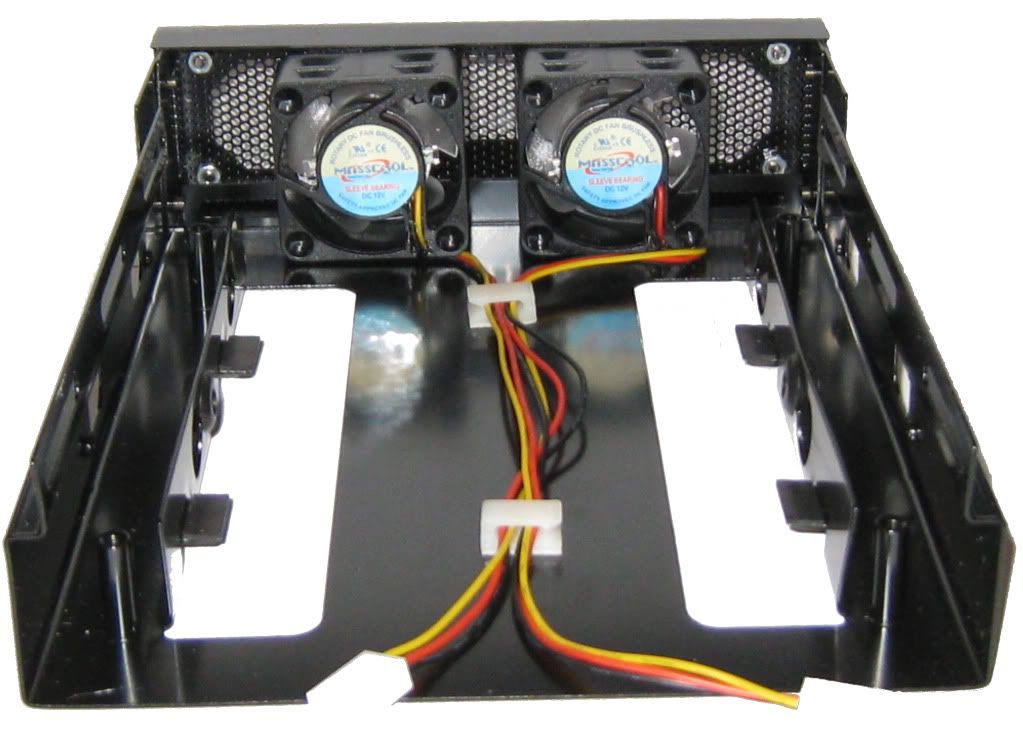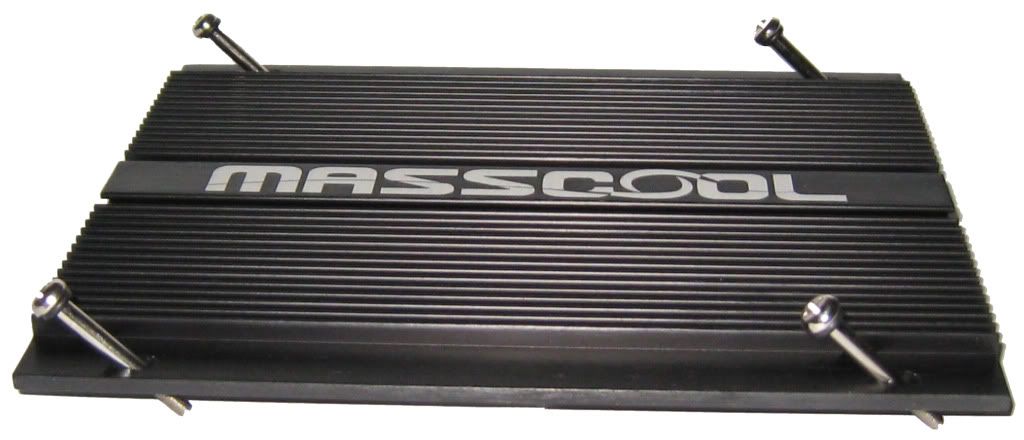 I bet you are wondering what all of the accessories are for, right?
Well, the screws are for the cooler itself, and the clips and brackets are for adding another hdd or a 120mm fan to the top of the cooler.
Pretty cool, if you need that and have empty space above where the cooler is going.
The manual is pretty basic, and not really needed.
There is also a thermal pad, that goes between the HDD and the aluminum top of the cooler, to aid in cooling.
One power adapter is included, which has 3 3-pin (male) to 2 4-pin molex (1 male, 1 female) connectors.
There are only 2 fans, so I guess you get an extra 3-pin power lead in case you need it.
Or, maybe the original cooler had 3 fans, and they changed it to only 2?
Only Masscool knows.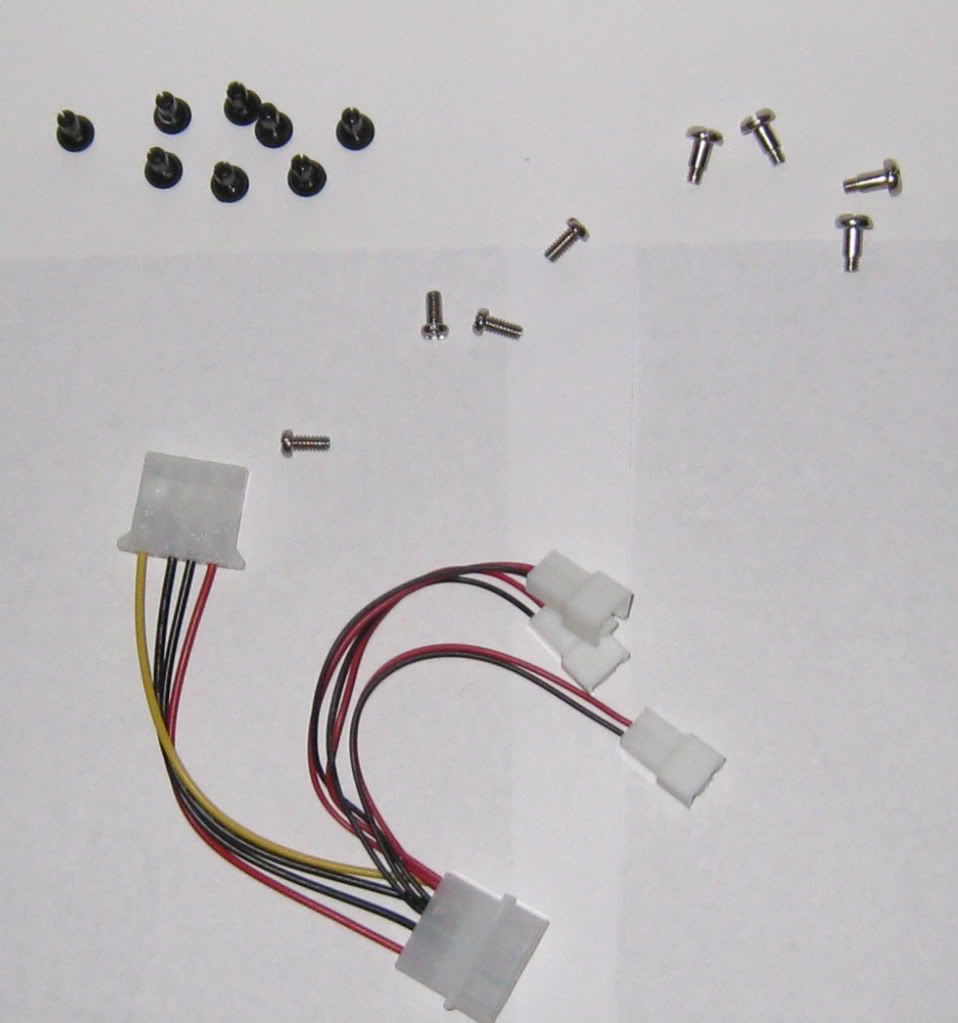 Here we have the hdd installed.
I have to say, the hdd went in pretty tightly.
The screw holes didnt line up very well at first.
I lifted one end of the hdd, to get the front screw holes lined up, threaded the 2 screws in a bit, and then pressed on the rear of the hdd pretty dang hard to get first 1, and then the other screw in.
This is due to the fact that not only are there rubber grommets for the hdd screws, but the hdd also sits on 4 rubber pads.
This probably does a bit to reduce hdd 'rattle', but I wouldnt know. I have never heard a hdd make noise once it was screwed into place (or slid into place with rails). Has anyone? I think it is just a big marketing scheme.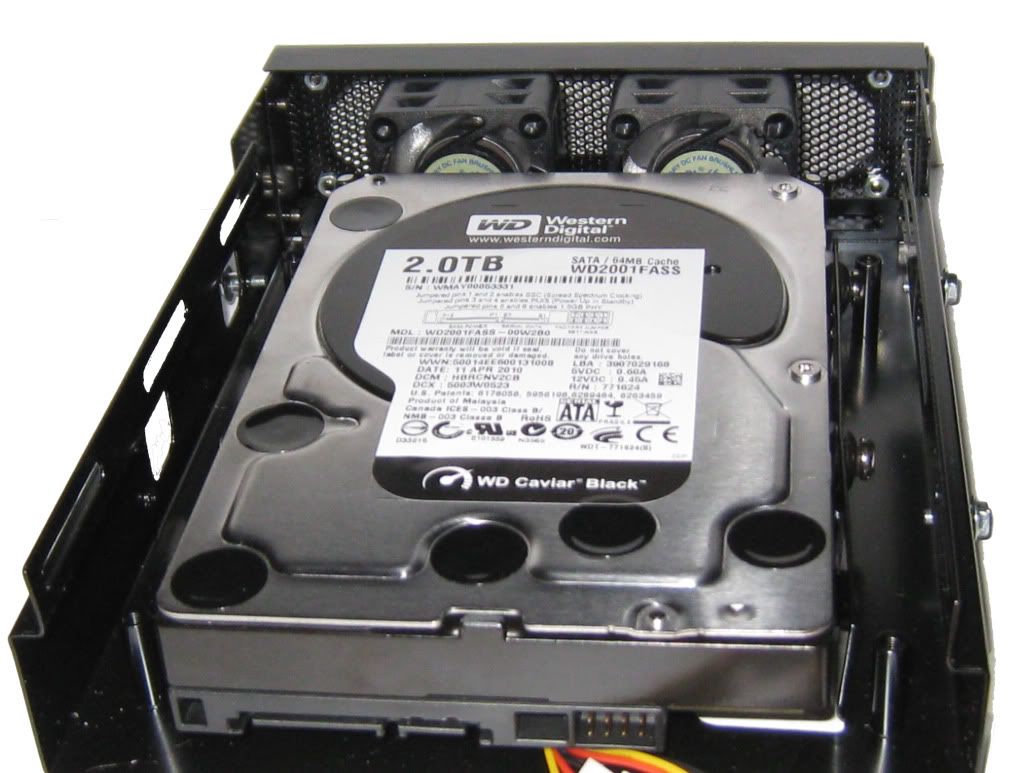 And with the thermal pad on.
I also have to note something about the thermal pad installation.
There is 2 different plastic surfaces protecting the thermal pad:
1 very thin layer of plastic on one side, and 1 thick layer on the other side.
I didnt notice this until I had already peeled the thin side, stuck it on the hdd, and went to peel the other side.
Well, when I tried to peel the thick part, it was VERY sticky (unlike the thin side) and kept pulling off the hdd.
The manual made no mention of this, so if you get this cooler, peel back just a corner from each side first, and attach the thick sticky side the the hdd, with the thin film side facing upwards.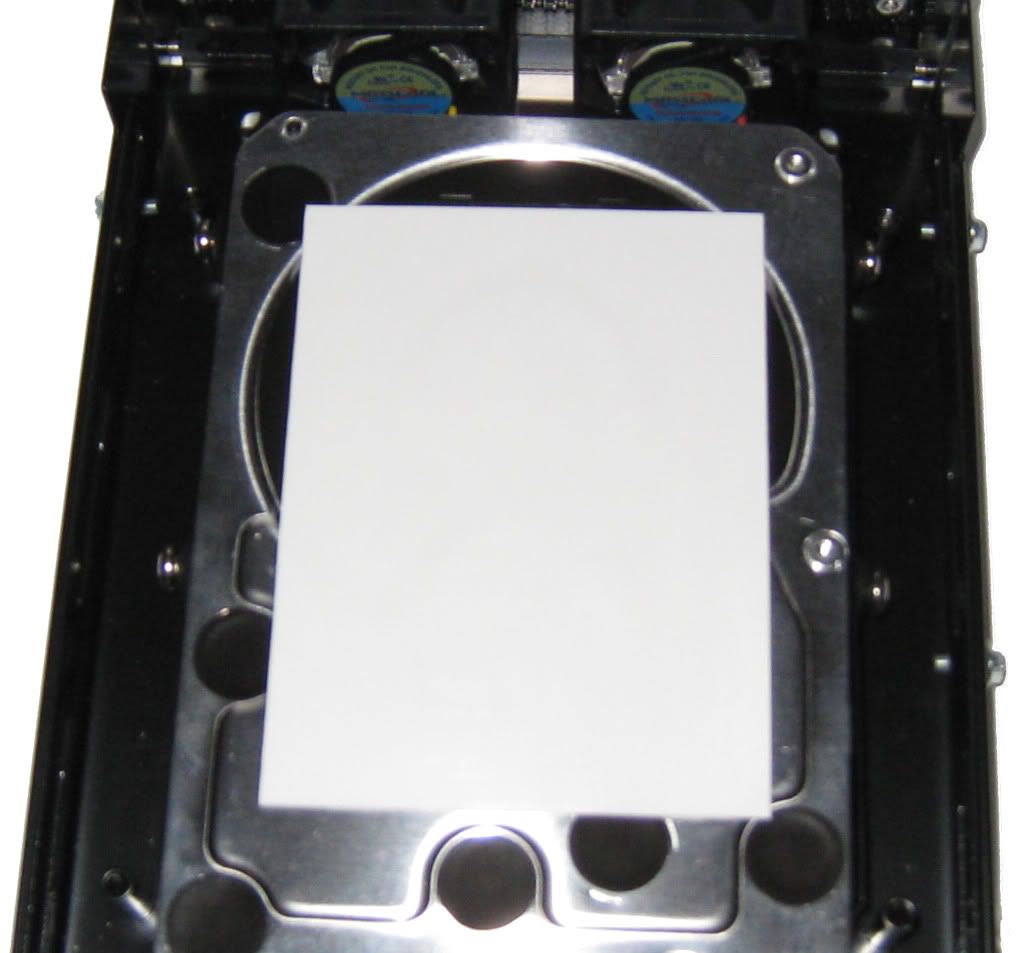 Finally, we have some pics of the unit fully assembled.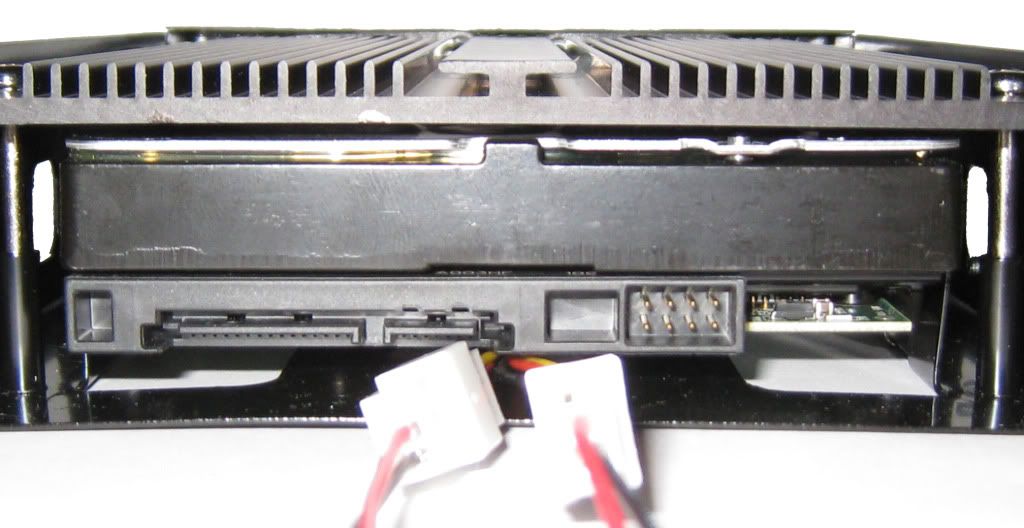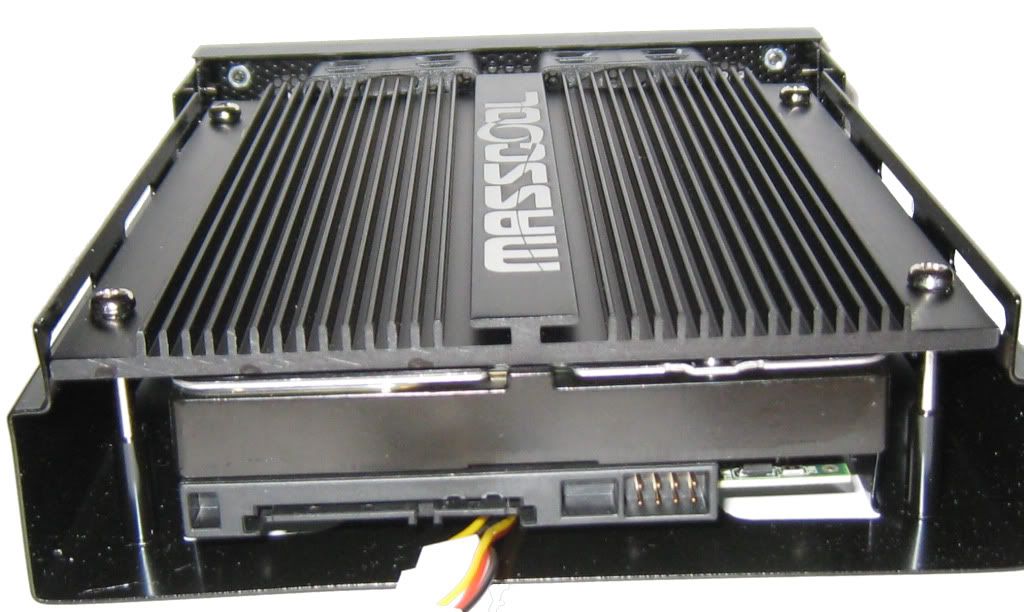 And now for the moment of truth:
Does the cooler work? And if so, how well?
HDD is a WD Black 2tb WD2001FASS drive.
Temperatures were taken in a room that was 73 degrees f to start with, and during the course of both days got to 75 degrees f.
I used speedfan for getting all the temperatures.
Testing was done as follows:
I used VMWare installed to and all images stored onto the 2tb Masscooled hdd.
I went through my work day using vmware the whole day, and recorded the coolest and the hottest temperature readings.
I am comparing the masscool cooling to my ghetto hdd bay cooler, as seen here:
http://www.bleedinedge.com/forum/sho...888#post275888
| | | |
| --- | --- | --- |
| | Idle | Load |
| Ghetto Cooler | 84 | 109 |
| Masscool Cooler | 70 | 77 |
There you have it folks.
14 degree's cooler on idle, and 32 degree's cooler on load.
Wow.
I wasnt expecting anywhere NEAR that kind of temperature difference.
OK, now that we all know it work, and looks good too, let me get some stuff off my chest about this cooler.
1. No doubt it is a nice looking bay cooler, BUT, the screws dont really go with many cases, unless it would be a case like the HAF or industrial looking case. I wish they had provided black screws for the front portion so they would blend better.
Some might also be put off nby the Masscool lettering, but it kind of blends in with all the Dell logo's and the LG writing on the dvd drive, and bothers me not at all.
2. The screws attaching the faceplate to the hdd body 'may' interfere with your case. In my Dell case, the 5.25 bays have metal all the way to the front of the case, with grooves in them to slide your devices.
Well, the screws on the cooler hit the metal sides of the case, and stopped it from seating all the way in. A flat head screwdriver pried it over enough to slide the cooler all the way in though, so that it fit flush with the dvd drive.
3. Your mileage may vary with different cases. Note that this cooler is in a mid tower Dell machine, that has very poor airflow to begin with. I highly doubt I would get these kinds of temperature drops if I were to install it in my CM Stacker full tower case, that has venting on the front and side panel, and has 4 case fans. The Dell has NO case fans at all. The only fan is the CPU fan.
4. LED's in fans. This is fine for a product that will be monuted on the case side, or back of the case. But, for one that is going to mount in the front, I would like my fans to be without lighting, as the fan moning plus light source behind it tends to both draw my eye to it, and to also give me a headache.
So, on to likes and dislikes:
+ Very good cooling, in a limited cooling case.
+ Looks great.
+ Very easy to install.
+ Extra 3-pin fan connector.
+ Bonus cooling or storage option
+ Price. ( I bought mine for $25, which is a bargain).
- Silver/chrome front panel screws stick out like a sore thumb.
- Front panel to hdd body screws may interfere in some cases.
- Top heatsink cover mounting could have been easier.
- Fans have LED's
Here are some pics of the cooler in the Dell case: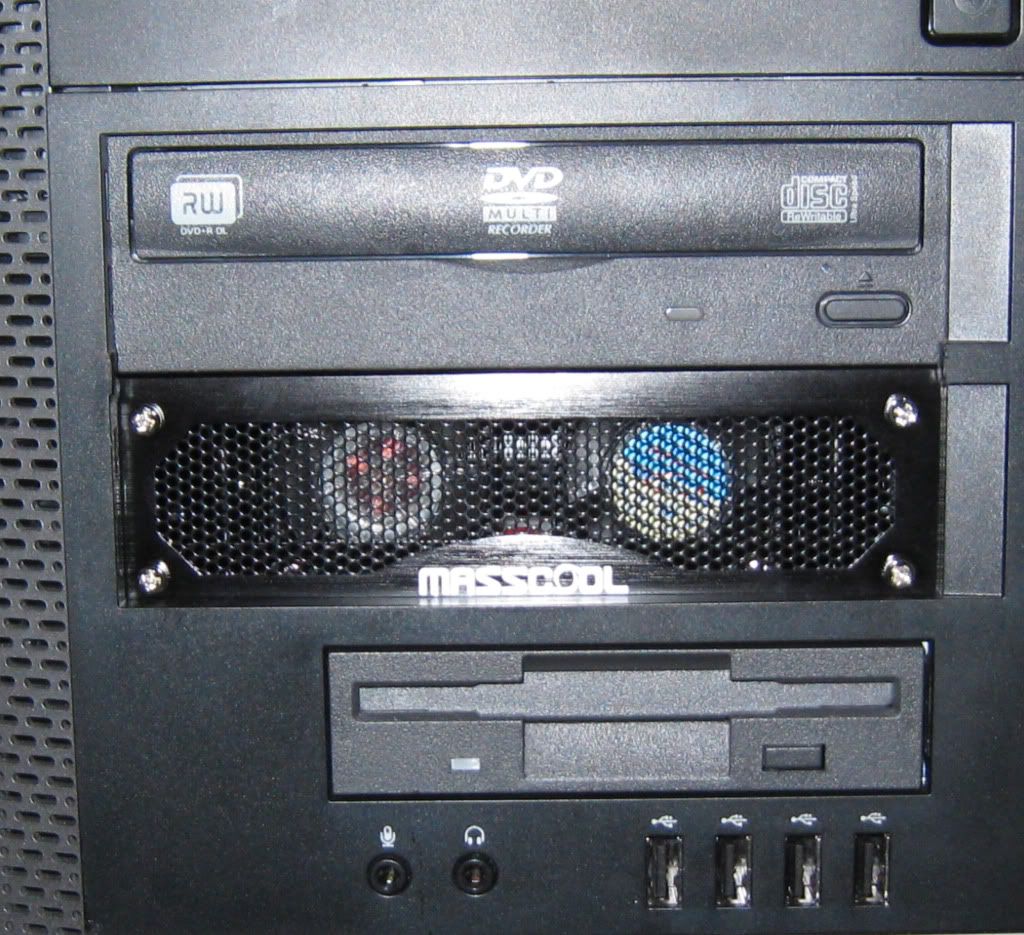 Note that the blacks are much closer in color than what you see in these pictures.
Thanks for reading.